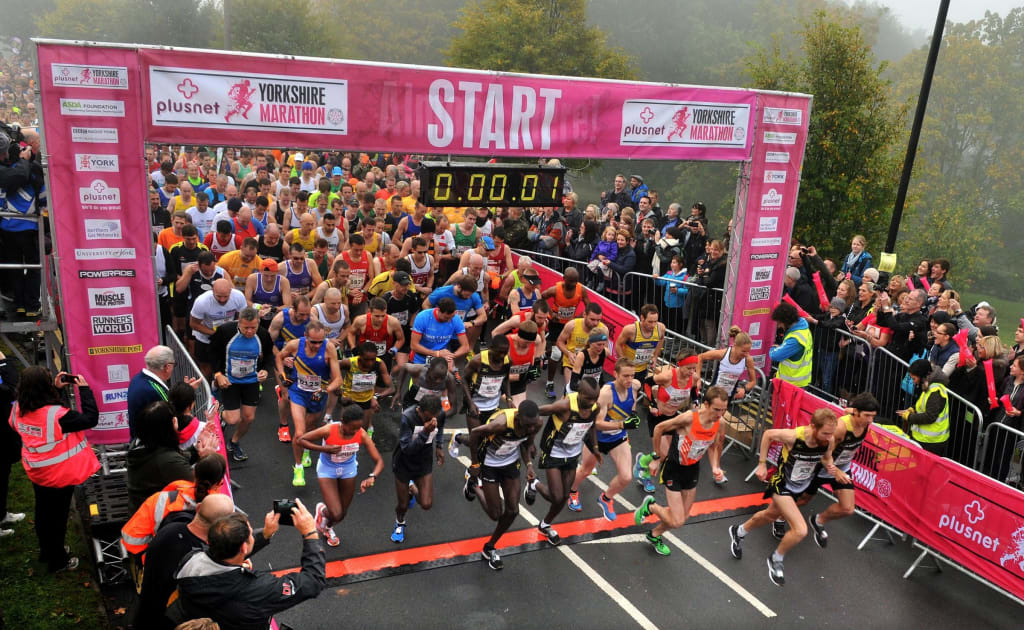 We had a number of our runners in action at the York 10 mile and marathon events this weekend. These races are flat and fast and practically on the doorstep, so ideal for PB hunters and first timers alike.
10 Mile
Tony Winward was once again first home over the distance, breaking the hour mark finishing in 59:55 for a new personal best. There were also impressive runs by Leigh Towers who finished in 62:18, Steve Rogers next to finish in 72:30 and Tony Williams (despite having an ear issue seen below…) in 72:32, ahead of Ronnie Read in 78:44, Jo-Anne Tarn in 79:22 and camera shy Helen Martin in 1:41:33. Good work guys and gals!

Marathon
In the marathon John Clifford finished in a fantastic 64th place in a new club V45 record of 2:43:38, smashing the previous record set in 2016 by a massive 15 minutes. Jeff Miller, who only raced Berlin 3 weeks ago finished in an excellent 3:03:10 ahead of first time marathon runners Nicky Young and Dave Smith, who both exceeded their own expectations by breaking 4 hours in 3:47:37 and 3:53:02 respectively.

Zoe Rogers, another who's aim was to Break that 4 hour mark, did so in style finishing in 3:57:36 for a new personal best. Shirley Gibson, along with Jeff wearing the England vest on the day finished in 4:19:29 and 2nd in her F70 category.

Hilary Bevan was our final runner, finishing in 6:07:03 for yet another marathon finish to her collection. Great individual results everyone.