Up & Coming Events
| Date | Event Name | Entry Link |
| --- | --- | --- |
| 06/06/22 | Viv's Positivity Power Fun Run | ENTER |
| 22/06/22 | Run 4 Louis | ENTER |
| 13/07/22 | Pitstop 10k, 5k & Fun Run | ENTER |
| 20/08/22 | South Park 10 | ENTER |
| 17/09/22 | South Park 20 | ENTER |
CLUB EVENTS ONLY
– SHOW YOUR SUPPORT AND GET INVOLVED
How do I?….
I want to tell our members about our business or see what business they support
I want to read our clubs processes or policies
Race Results
Please note, Eastbourne Complex is closed Thursday 2nd and 3rd June due to the Queens Jubilee
At Last Sunday's NEYDL match at Middlesbrough we had a number of our junior athletes in actions across the majority of the disciplines. Results for the Darlington-Allerton athletes have been filtered below, results for each event is a combination of A, B and C fields (not in order). Rowan Steel was one of the athletes of the match so huge kudos to him with the Darlington/Allerton team collating 673 pts which was good enough for 2nd place on the day.
At this week's NYSD we had two of our U11 athletes in competition. Lucie Hammond who competed twice on the night finishd 1st in the 75m race finishing in 12.8 seconds and then jumped 2.80m in the long jump finishing 2nd behind our other athlete Charlotte Seniscal who leapt 2.99m to take the win. Full results from the event can be found here
We had a small number of our Harriers at the the midweek Darlington Trail Baydale Beck 5km from the DT series. In a field of only 32 Colin Taylor was first across the line in 18:52, Lee Hammond a top 10 finish in 25:03 with Andy Nuttall and Jez Makin 14th and 24th respectively in 25:31/33:17. Well done gentleman!
Thursday saw the return of the NYMAC Relays, a race that consists of teams of 4 each running 1 mile around Stewarts Park in Middlesboro. The loop is quite twisty with a fast downhill section to start but then a slow drag back up to the finish which certainly has a kick in the last 10 metres of so before the finish just to make it that extra bit painful.
Some impressive individual and team performances on the night with both our senior men, 160 women and 200 men teams all taking 3rd place in their respective races while our junior ladies and mixed teams took top spot in the female open race making it a very successful night on the podium.
Full results can be found here
Mark Milner took on the huge task of completing the Hardmoors 110mile race which started Friday and into the weekend. Mark a seasoned ultra runner took on the route which follows the Cleveland Way National Trail encircling the North York Moors and the Cleveland Heritage coastline. Mark finished this mammoth task in 33hrs, 31 minutes and 51 seconds. Mind blowing achievement Mark.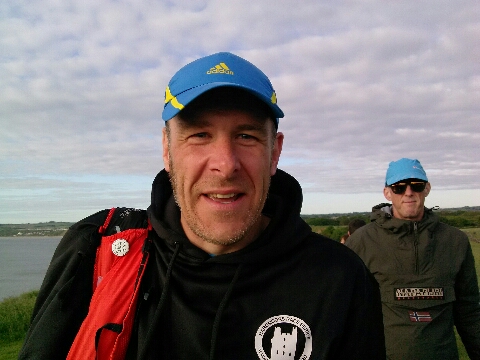 Sunday morning saw a number of races take place in Edinburgh which our members were involved in. Thomas Grayson finished 24th in the 5km race in a time of 21:18 while Simon Daniels was first of our three runners to finish in the half marathon in a time of 1:40:30. Emma Morley also competing in the half finished in 1:58:36 with Sarah Neve completing the course in 2:15:38. In the marathon Chris Fothergill completed his first marathon in a time of 3:02:00 despite getting cramp at 18 miles. Great results by all of you!
Results for these events can be found here
At Raby Castle on Sunday we had runners involved in both the 5k and 10k races. Raby Castle is very scenic but a tough course to run with a couple of hills to tackle along the way so not your typical flat road race. In the 5km Matthew Foster was first of our three runners finishing in 8th position, two places ahead of Henry Gooding and Shirley Gibson who is now back racing after her recent fall. results can be found here
In the 10km it was Lee Johnson who finished 1st overall in a time of 34:34 ahead of team mates John Clifford in 3rd and Colin taylor in 5th. Jade Hutchinson was first female on the day and 26th overall with Barry Bell making a rare outing to fish just outside the top 50 in 53rd place. Anne Hutchinson was next home finishing under the hour in 59:19 with the legend that is Ian Barnes 197th in 71:47 for the sprightly 87 year old. Great performances from you all. Full results can be found here
Running in parallel to Raby Castle was the Northallerton 10km, a race which starts on the high street before a 3 mile climb up and a steep downhill 2 mile section to finish back in the high street. Jack Millican was first of the club runners to cross the line finishing 12th overall in 37:56 with Pauline Brown taking top spot for the club ladies finishing 71st and 1st in her age category. Other notable performances from our group were Jeff Miller and Sharon Carbert who finished 2nd in their age categories and David Nalder who was first in his. Some great performances from all our runners today including some personal bests!
Results of the day can be found here
Get Involved